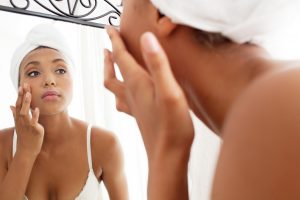 Hyaluronic Acid Facial Serum with Ceramide Moisturizer & Aloe vera 
Hyaluronic acid facial serum Plus Ceramide moisturizer and Aloe vera is a powerful anti-aging facial serum with ingredients used by dermatologists worldwide to reduce the signs of aging and restore skin vitality.
AloeHydrate's Hyaluronic acid facial serum Plus Ceramide is an intense anti-aging serum combining 3 sizes of Hyaluronic acid plus our unique water soluble Ceramide moisturizer in a nutrient rich Aloe vera. This clean non-greasy formula quickly penetrates deeply into your skin delivering the moisture you need to plump your skin, the lipids (ceramide) to restore your natural skin barrier to reduce evaporation and nutrients to help rejuvenate skin elasticity. Used regularly AloeHydrate's Hyaluronic acid serum helps your skin to be more healthy and have a softer more youthful feel. 
Though our Hyaluronic acid with Ceramide and Aloe does help help minimize evaporation, it still occurs. To help you keep your Hyaluronic acid serum fully hydrated and plump throughout the day we recommend using a light moisture mist of our NaPCA spray. That is why we have included a bottle of our NaPCA spray.
Hyaluronic acid Face Serum Plus Ceramide in Aloe vera:
Goes on silky smooth with a lite and comfortable feel with no greasy residue 

Restores your skin's moisture content and skin barrier to reduce evaporation

Helps relieve and repair damaged skin and reduce inflammation and sun damage 

Plumbs and softens skin helping to reduce the appearance of fine lines and wrinkles
AloeHydrate only uses naturally effective ingredients with clean, pure and simple formulas so that you know and we know what is going onto and into your skin.  The formulas are free of oils, alcohol, latex, parabens, GMOs, sulfates, silicone, synthetic perfumes. And they are 100% free from animal testing.
Hyaluronic acid facial serum Plus Ceramide in Aloe is made with these six ingredients for natural skin hydration and healthy beauty:
Max3TM  Hyaluronic Acid ~ Three sizes of pure Hyaluronic acid biomolecules;  naturally occurring molecular sponge and lubricant

Ceramide NG ~ a powerful water soluble skin Ceramide to restore the skin barrier and help smooth your skin

NaPCA ~ a natural moisturizing factor to help keep your skin hydrated and healthy 

Organic Aloe vera ~ natures best moisturizer provides: the pure water and nutrients needed to hydrate hyaluronic acid and skin, natural anti-inflammation, antimicrobial and healing properties 

Glycerin (plant) ~ natural emollient to help restore elasticity and softness 

Pure rosewater ~ Rich in antioxidants to help neutralize UV damage 
How to use Hyaluronic acid face serum PLUS Ceramide and Aloe vera:
Apply the Hyaluronic acid  serum evenly around your eyes, forehead and neck areas. Or area you want to help rejuvenate.

Simply place a small drop onto the tip of your finger and gently massage into your skin

For best results apply to freshly washed, clean moist skin. Use in the morning and evening before bedtime. 

Keep your Hyaluronic acid hydrated throughout the day with just a quick spritz of AloeHydrate NaPCA Spray.  This regimen helps to keep the Hyaluronic molecules hydrated all day long.

Works with all skin types, including normal, sensitive, dry, oily or irritated skin.

A little goes a long way!
PRO TIP:
To get the best anti-aging effects with our Hyaluronic face serum Plus Ceramdie we suggest that after applying the Hyaluronic acid you apply a spritz of NaPCA moisture mist (NaPCA spray) on top. Do this after the first application and at least midday to keep your Hyaluronic acid serum and skin hydrated..
Hyaluronic acid Plus Ceramide also works to soothe sunburned skin and stimulate healing of damaged skin. Immediately apply the serum to the affected areas. 
For general moisturizing throughout the day, we recommend using our  NaPCA Spray with Aloe.
Caution: Before applying any topical product always test a small amount on your forearm first. If your skin becomes irritated, wash off the product and see your physician.
Ingredients are subject to change at the manufacturer's discretion. For the most complete and up-to-date list of ingredients, refer to the product packaging. Made in the USA.