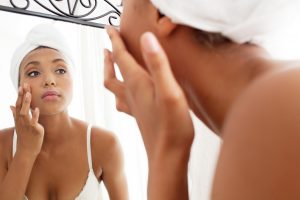 Hyaluronic Acid Face Serum with Ceramide Moisturizer in Aloe vera 
Hyaluronic acid face serum with Ceramide in Aloe vera is a powerful anti-aging serum with ingredients used by dermatologists worldwide to reduce the signs of aging and rejuvenate skin vitality.
AloeHydrate's Hyaluronic acid serum with Ceramide in Aloe is an powerful skin penetratingly anti-aging facial treatment that when used regularly reduces the appearance of fine lines and wrinkles giving you more youthful and healthy skin. This is a clean non-greasy formula that quickly penetrates deeply into your skin delivering the moisture, nutrients an protection to plump your skin and keep it firm.
It combines 3 sizes of Hyaluronic acid plus our unique water soluble Ceramide moisturizer in a nutrient rich Aloe vera. Hyaluronic acid acts as a biomolecular sponge holding on to moisture, the ceramide (a skin lipid) restores your natural skin barrier to reduce evaporation and Aloe vera provides the moisture and nutrients to make it all work in synergy. Used regularly AloeHydrate's Hyaluronic acid serum helps your skin to be the best it can be; more healthy, youthful looking and supple.
Though our Hyaluronic acid serum with Ceramide and Aloe does help minimize evaporation, it still occurs. To help you keep your skin fully hydrated and plump throughout the day we recommend using a light moisture mist of our NaPCA spray. That is why we have included a bottle of our NaPCA spray with your purchase.
Hyaluronic acid Face Serum with Ceramide in Aloe vera:
Goes on silky smooth with a lite and comfortable feel with no greasy residue 

Restores your skin's moisture content and skin barrier to reduce evaporation

Helps relieve and repair damaged skin and reduce inflammation and sun damage 

Plumbs and softens skin helping to reduce the appearance of fine lines and wrinkles
AloeHydrate only uses naturally effective ingredients with clean, pure and simple formulas so that you know what is going onto and into your skin.  The formulas are free of oils, alcohol, latex, parabens, GMOs, sulfates, silicone, synthetic perfumes. And they are 100% free from animal testing.
Hyaluronic acid face serum with Ceramide in Aloe is made with these six ingredients for natural skin hydration and healthy beauty:
Max3TM  Hyaluronic Acid ~ a naturally occurring biomolecule. It acts as a sponge and is a component of collagen. Three sizes of Hyaluronic acid are used for maximum moisture retention to keep skin plum and to participate in collagen formation for firmer skin 

Ceramide NG ~ a powerful water soluble skin Ceramide to restore your skin barrier reducing evaporation and to help keep your skin feel soft and supple

Aloe vera juice ~ natures best moisturizer provides: pure water and nutrients needed to hydrate hyaluronic acid, natural anti-inflammatory agents, antimicrobial and healing properties too

NaPCA ~ a natural moisturizing factor to help keep your skin hydrated and healthy 

 

Glycerin (plant) ~ natural emollient to help restore elasticity and softness 

Pure rosewater ~ rich in antioxidants to help neutralize UV damage 
How to use Hyaluronic acid anti-aging face serum:
Apply a drop of Hyaluronic acid face serum to your finger tip

and gently massage into your skin.

Suggested areas include on crows feet, wrinkles on your forehead and around your mouth

For best results apply to freshly washed, clean moist skin. Use in the morning and evening before bedtime. 

Keep your Hyaluronic acid and skin moist throughout the day with a refreshing spritz of NaPCA Spray. This regimen helps to keep the Hyaluronic acid molecules hydrated all day long.

Works with all skin types: normal, sensitive, dry, oily, irritated skin and acne prone.

A little goes a long way!
PRO TIP:
Hyaluronic acid Plus Ceramide with Aloe also works to soothe sunburned skin and stimulate healing of damaged skin. Immediately apply the serum to the affected areas. 
For general moisturizing throughout the day, we recommend using our  NaPCA Spray with Aloe.
Caution: Before applying any topical product always test a small amount on your forearm first. If your skin becomes irritated, wash off the product and see your physician and notify us.
Ingredients are subject to change at the manufacturer's discretion. For the most complete and up-to-date list of ingredients, refer to the product packaging. Made in the USA.
Now available at Amazon and Walmart:
More on the benefits of combining hyaluronic acid, ceramide, and NaPCA (sodium PCA) in Aloe vera for a naturally effective anti-aging face serum. Here are the advantages of combining these ingredients:
Hyaluronic Acid:
Intense hydration: Hyaluronic acid has excellent water-attracting properties, capable of holding up to 1,000 times its weight in water. It helps replenish and retain moisture in the skin, resulting in improved hydration levels and a plumper, more youthful appearance.
Enhanced elasticity: By maintaining optimal hydration, hyaluronic acid supports the skin's elasticity, making it appear firmer and reducing the appearance of fine lines and wrinkles.
Smoother texture: Hyaluronic acid has a skin-smoothing effect, promoting a softer, more refined texture by filling in and plumping up the skin's surface.
Ceramide:
Strengthened skin barrier: Ceramides reinforce the skin's natural barrier, preventing moisture loss and protecting it from external aggressors. This helps maintain optimal hydration levels and shields the skin from environmental stressors that can contribute to premature aging.
Improved skin texture: By replenishing ceramides, the serum can help restore and maintain the skin's natural texture, making it smoother, softer, and more supple.
Reduced signs of aging: Ceramides support the skin's ability to repair and regenerate, which can help minimize the appearance of fine lines, wrinkles, and age spots, resulting in a more youthful-looking complexion.
NaPCA (Sodium PCA):
Intensive hydration: Sodium PCA is a natural humectant that attracts and holds moisture in the skin, contributing to optimal hydration levels. It helps to prevent water loss and keep the skin plump and supple.
Enhanced skin barrier function: NaPCA aids in maintaining the skin's protective barrier, promoting a healthy complexion and defending against external irritants and pollutants.
Improved skin texture: By providing deep hydration, NaPCA can help improve the skin's texture, making it smoother, softer, and more radiant.
Aloe Vera:
Soothing and calming: Aloe vera has natural anti-inflammatory properties, which can help soothe and calm the skin, reducing redness and irritation.
Nourishing and revitalizing: Aloe vera is rich in vitamins, minerals, and antioxidants that can nourish the skin, promote cell regeneration, and support a healthy complexion.
Hydration booster: Aloe vera has hydrating properties that can enhance the moisturizing effects of other ingredients, such as hyaluronic acid, ceramide, and NaPCA, helping to maintain skin hydration and improve overall moisture balance.
By combining hyaluronic acid, ceramide, NaPCA, and aloe vera in an anti-aging serum, you can benefit from intense hydration, strengthened skin barrier function, improved skin texture, reduced signs of aging, and a soothing, nourishing effect on the skin. This combination can contribute to a more youthful, hydrated, and revitalized complexion.
===========================================================================================
hyaluronic acid men serum face anti aging aloe vera moisturizer hydrating skin facial sensitive care women hylaronic dry organic pure vitamin c liquid filler advanced travel size cream eye personal retinol kit spf glowing silky smooth glow treatment